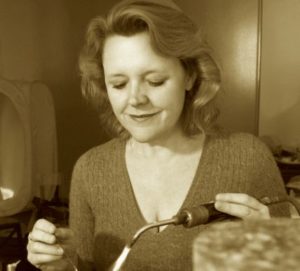 Carolyn Tillie is a freelance writer and exhibiting artist and curator. Having obtained an MFA in jewelry and metalsmithing from CSULB in 1998, she immediately worked in obtaining a Certified Master Chef certificate from Epicurean school in Los Angeles and Level Two certification from the Wine Spirit Education Trust. She has written for a number of wine industry magazines, the Napa Register, and Metalsmith magazine.  As a culinary historian, her first book was Oysters, A Global History. Her food-themed jewelry has been sold in dozens of galleries all over the world and is now curating art exhibits to accompany the release of her second book, A Feast for the Eyes – Food Art from Apple to Zucchini in June of 2019.
PUBLISHED WRITINGS
A Feast for the Eyes – Food Art from Apple to Zucchini, Reaktion Press, (due for release: June, 2019)
Oysters, A Global History, Reaktion Press, 2017
Metalsmith Magazine, "Good Enough to Eat: Explorations in Food Jewelry" – Volume 38, No. 4, 2018.
Metalsmith Magazine, "Suzanne Pugh: Post Pastoralia" – exhibition review, 2017
Metal Arts Guild History, "History of Metal Arts Guild," 2013
Wines & Vines, "Track Sales & Depletions with Winery-Specific Software", 2009
Enterprising Women, The Magazine for Women Business Owners– cover story, "Women Make Wine," 2008
Hugh Johnsons' World of Fine Wines magazine – multiple articles, 2007
Wine Business Monthly – multiple articles, 2006
Napa Register– multiple articles, 2004-2006
Gault Millau and Gayot.com– restaurant reviews, 2004-2006
CURATORIAL PROJECTS
Reflections of the New Aeon – Gallery Eleven Seven, Long Beach, California. 2001
Feast Your Eyes – Root Division, San Francisco, California. April 3 to April 19, 2019
Arm Candy – ACCI Gallery, Berkeley, California. June 25 to July 16, 2019
EXHIBITION RECORD
2018
2017
2016
2015
2014
2013
2011
2010
2009
Paper or Plastic, Luke & Eloy, Pittsburgh, Pennsylvania
Urban Renaissance – New Vision of Jewelry and Sculpture, ACCI Gallery, Berkeley, California
Schwa '09, Pitt County Arts Council at Emerge, Greenville, North Carolina, Katt & Matt Myers, Jurors
Art Undressed, San Francisco, California. Erotic Signature, Curators
CONTROL, South Bay Area and Peninsula Women's Caucus for Art, San Francisco, California. Guerilla Girls West, Jurors.
Reclaim, Reuse, Renew, Atrium Gallery at Ball State University, Muncie Indiana
LUX Center for the Arts National Juried Exhibition, Elder Gallery, Nebraska Wesleyan University
RE: materialization, Deborah Martin Gallery, Los Angeles, California, Shana Nys Dambrot and Deobrah Martin, Jurors
2009 National Juried Exhibitions, ACCI Gallery, Berkeley, California. Lisah Horner, Juror
2009 National Art Encounter, Naples, Florida. Dahlia Morgan, Juror – Juror's Choice Award
National Truffle Art Fest, Asheville, North Carolina.
Wearable Art Awards, Port Moody Arts Center; Port Moody, British Columbia, Canada.
Delicious: Work Inspired by Food & Drink, STUDIO: Gallery; San Francisco, CA
Valentine's Day Celebration of Chocolate & Champagne, Sculpture to Wear; Los Angeles, California.
2008
Radical Jewelry Makeover – A project by Ethical Metalsmiths, Velvet Da Vinci, San Francisco, California
2007
Pop Art – Champagne Uncorked, Shaw Jewelry; Northeast Harbor, Maine. Curator: Sam Shaw
PROFESSIONAL AFFILIATIONS
EDUCATION
Writing for the Art World; Sotheby's Institute of Art, 2016
Wine and Spirits Education Trust; Napa, California, 2002
Certified Master Chef, Epicurean School; Los Angeles, California, 1999
Master of Fine Arts, CSULB; Long Beach, California, 1998
Bachelor of Fine Arts Degree: 3-D Media Metal, Textiles, and Wood, CSUN; Northridge, California, 1993